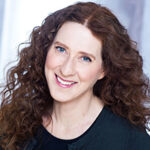 Trish O'Reilly-Brennan
Trish is an English copy editor, proofreader, and writer with over 15 years' experience with academic writing and postsecondary textbooks, as well as publications intended for a more general (trade) audience and business communications. She holds an Honours BA in English Literature from the University of Toronto and completed her editing training with courses through the Editors' Association of Canada. Trish is particularly proud of her work on On All Frontiers: Four Centuries of Canadian Nursing (UOP/Canadian Museum of Civilization, 2005), a complex, multi-authored bilingual book project for which she provided project management and translation coordination as well as English copy editing.
Trish is thorough and organized with a passion for clear communication. Known for her meticulousness (particularly with documenting references), Trish also brings warmth, good communication skills, and a sense of humour to the job.
When not editing, Trish is a singer/actor, gardener, and ukulele teacher. She is the co-producer of Mosaic Storytelling Festival and the founding Chair of her local community association. In the summer of 2019, Trish assisted with the production of a number of video PSAs for the environmental group Artists for Real Climate Action (ARCA). She was awarded the Elizabeth II Diamond Jubilee Medal (2013) for her community work.
Specialties: Academic Editing, Canadianization, Non-Fiction Editing, Plain Language, Proofreading, Writing
Subjects: Animals, Arts, Camping, Cooking, Culture, Education, Environment, Gardening, Health, Humanities, International Development, Law, Music, Outdoors, Politics, Religion, Social Sciences, Theatre
Clients: Past and present clients include Pearson Education, the University of Ottawa Press, the Canadian Journal of Development Studies, the Canadian Centre for Architecture, Picis Clinical Solutions/Harris Computer, Crow's Theatre, the Ontario Archaeological Society, TD Bank (Human Resources Self-Serve Strategy Group), Historica-Dominion Institute, Livres Canada Books, Thomson Nelson, McGraw-Hill, Legal Aid Ontario, Transcontinental Books, Canadian Scholars' Press Inc., and Between the Lines Publishing.