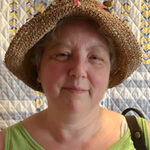 Ruth Bradley-St-Cyr
Senior Associate
Ruth wrote her first poem at the age of seven and has been writing ever since. Once she discovered that she could write better than most people (except for her associates), she became an editor as well.
Writing
Ruth is the co-author of A Writer's Workshop: Crafting Sentences, Building Paragraphs, Designing Essays (2nd Canadian edition, McGraw-Hill Ryerson, 2014), the editor of Little Downy, The Story of a Field Mouse by Catharine Parr Traill (Winding Trail Press, 2005), and the co-author of Transcending Trauma by Ruth Morris (Winding Trail Press, 2005).
She has also published two book chapters. The most recent is "Invisible Disability" in Motherhood in Precarious Times (Demeter Press, 2018). The first was "Sisters in the Wilderness: Mythologizing Catharine Parr Traill" in Double-Takes: Intersections between Canadian Literature and Film (University of Ottawa Press, 2013).
Her writing has also been published in various academic and commercial periodicals, including the following: The Ottawa Citizen, Hamilton Spectator, Journal of Scholarly Publishing, Mémoires du livre/Studies in Book Culture, Canadian Children's Literature (CCL), Touchstone, Natural Life, Growth Spurts, Women's Education des femmes, Animal's Voice, Community Life, various Brabant Newspapers, and many blogs.
Editing
Ruth's 30 years in editing and publishing have taken her through a dozen different jobs, including Marketing for Stoddard Kids and Readers' Digest Children's Books, Production Manager of Stewart House Publishing, Managing Editor of the United Church Publishing House, Publisher of Winding Trail Press, and Director of University of Ottawa Press.
One of her most memorable editing achievements is producing — in less than a week — Canada Gold: Canadian Men and Women Hockey Champions (Winding Stair Press, 2002), an "instant book" that followed the 2002 Winter Olympics in Salt Lake City. Another favourite project is The Diary of Abraham Ulrikab: Text and Context (University of Ottawa Press, 2005), the first publication of the diary in English. Ulrikab was an Inuk from Hebron, Labrador, who agreed to perform — along with his family and four other Inuit — in ethnographical shows in the zoos of Europe. All eight of the group died of smallpox within weeks of their arrival in Europe. As a result of this book, the remains of five of the Inuit — whose skeletons had been mounted and displayed in the French Museum of Natural History — were discovered and may soon be repatriated to Labrador.
Research
Having worked for 30 years in the Canadian book publishing industry, researching its history is another of Ruth's specialties. Her PhD dissertation, The Downfall of the Ryerson Press, analyzes the business and organizational problems of Canada's largest textbook publisher. Currently, Ruth is researching the Royal Commission on Book Publishing (1971–1973) and writing a book about the crisis in Canadian publishing circa 1970.
Specialties: Academic Editing, Canadianization, Non-Fiction Editing, Structural Editing, Publishing Consulting, Plain Language, Rewriting, Structural and Substantive Editing, Stylistic Editing, Writing

Subjects: Animals, Arts, Business, Canadian Literature, Canadian History, Culture, Education, Environment, Family, Health, Humanities, Indigenous Issues, International Development, International Relations, Law, Politics, Religion, Social Sciences

Clients: Journal of Learning Analytics, Archivaria, Labour Market Information Council, Canadian Association of Second Language Teachers, Word & Deed Publishers, Yardstick Assessment Strategies, Livres Canada Books, and various others.
Testimonials:
"Ruth is the Wayne Gretzky of copy editing." — Darrin Griffiths, Word & Deed Publishing

"For the first time in publishing, I have found that the editor can actually leave the author with a mutual feeling of having improved the book by working together." — Ruth Morris, author

"Ruth regularly impressed us all with her knowledge, experience, and professionalism. She possesses a deep grasp of editorial development and production. Good for you for finding her." — Joe March, Stewart House Publishing