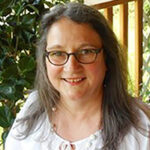 Marie-Claude Rochon
Marie-Claude Rochon has a BA in Translation from the Université de Montréal, a certificate in graphic design from Ahuntsic College, and a certificate in visual arts from the Université du Québec à Montréal. Working in the publishing industry since 1989, Marie-Claude has translated or edited translations of more than 75 titles in a variety of fields. She has also edited or proofread more than 200 titles. She now works through her company, Scribe Atout, founded in April 2000.
Marie-Claude's client list originally included individuals, self-employed workers, small businesses, and local organizations (associations, groups, schools, not-for-profits, and municipalities), but its clientele has grown to include educational publishers and periodicals.
Marie-Claude is passionate about music — including playing accordion and guitar — arts, cinema, skiing, kayaking, reading, and animals, as well as life in the countryside, being close to nature, and her large garden.
Specialties: Writing, Editing, Translation (English to French), Proofreading
Subjects: Arts, Business Administration, Comics, Data Processing, Education, Essays, General Interest, Health, History, Horticulture, How-To Manuals, Linguistics, Literature, Philosophy, Poetry, Psychology, Natural Science, Novels, Nursing, Science, Self-Help, Semantics/Semiology, Social Work, and books for Children and Young Adults
Clients: Pearson ERPI, Chenelière Éducation, the Canadian Association of Second Language Teachers, Meals on Wheels Ottawa, Friends of the Botanical Garden, Let's Talk Science, Pharmabio Development, Livres Canada Books, Quatre-Temps, Réflexions, Papers of the Bibliographical Society of Canada, and various others.