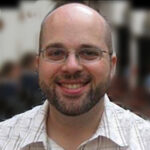 Chris Lendrum

Scriblerus Communications (www.scriblerus.ca)

chris@scriblerus.ca

+1 613 809 6148
Chris never planned on being an editor: he was going to be a professor, writer, and world-class rabbit wrangler. Lost in the doldrums of his PhD, however, he was only too happy to accept an offer to edit a report, just to try something different. Years later, when he decided the professor thing wasn't really for him — and that there wasn't much of a market for freelance rabbit snuggling — he remembered the editing work he had done and decided to give it a try as a full-time business. A remarkably busy decade later, he is still at it.
Editing
Chris specializes in editing documents on health subjects, particularly those relating to policy and advocacy. He has worked on a range of documents — from brochures and advertorials to manuals and guidelines — for clients such as Health Canada, the Canadian Institutes of Health Research (CIHR), and the Registered Nurses' Association of Ontario (RNAO). He has also held a series of long-term contracts with UNAIDS since 2011.
Some highlights include:
His proudest achievement was editing a letter from Elton John that appears in the How AIDS changed everything report. (Yes, he knows it was probably not written by Elton John; no, he doesn't care.)
Writing and Research
Chris also does writing and research projects for clients. He has written annual reports and research summaries for Muscular Dystrophy Canada, a set of patient education documents and a 10-year history for the Canadian Skin Patient Alliance, and a partnership history document for CIHR.
By far his largest project — more than one year from planning to printing — was a corporate history: 100: A Century of Siemens in Canada. Requiring trips to archives in Munich, Erlangen (Germany), and Hamilton, it was both time-consuming and incredibly rewarding. Chris is somewhat annoyed that it is no longer available on the web, but rest assured, if you ever visit his house, he will make sure you read it. There may or may not be a quiz afterward.
Specialties: Academic Editing, Copy-Editing, Rewriting, Structural and Substantive Editing, Stylistic Editing, Writing, Research
Subjects: Advocacy, Health, History, International Development and Relations, Policy, Social Sciences
Clients: African Commission on Human and Peoples' Rights, Canadian Institutes of Health Research, Cancer Care Ontario, Canadian Skin Patient Alliance, Health Canada, Muscular Dystrophy Canada, Registered Nurses' Association of Ontario, UNAIDS and others.
Testimonials:
"Chris has worked on several writing/editing projects for the Canadian Skin Patient Alliance over the past few years. He has treated each and every project with a personal touch and a fresh approach. . . . [His] attention to detail and commitment to excellence ensured that the communications products from the branch were top notch."
—Kathryn Andrews-Clay, Executive Director, Canadian Skin Patient Alliance (www.canadianskin.ca)
"Working with Chris was great! As an editor, he pays great attention to detail and is very prompt and thorough in addressing questions or concerns. What I especially appreciated was how in addition to his edits in the document itself, he provided an overview of concerns that need to be addressed and his rationale for such changes. I would work with Chris again, and I highly recommend him to anyone looking for a professional editor!"
—N.N., Project Lead
"Chris was able to dive into the history of a complex and diverse company such as Siemens Canada and uncover a comprehensive understanding of our past and relate it to our future. . . . His research and writing were invaluable. It was a pleasure to work with him."

—David Menary, Editor, Internal Communications, Siemens Canada Limited